C: P2 Krytyczna partia pompy testowana dla sportowców
Zatwierdzony Certyfikat HALAL z dodatkiem Słodzika
C: P 2 to kolejna generacja naszej oryginalnej pompy krytycznej, teraz bardziej skoncentrowana niż kiedykolwiek, stosowana w połączeniu z najpopularniejszymi i sprawdzonymi składnikami pomagającymi poprawić pompę, ostrość i wydajność. C: P 2 został sformułowany, a czynnik pompy był priorytetowo na wszystkich etapach rozwoju w celu maksymalizacji zysków, przy jednoczesnym utrzymywaniu silnej dawki pobudzającej.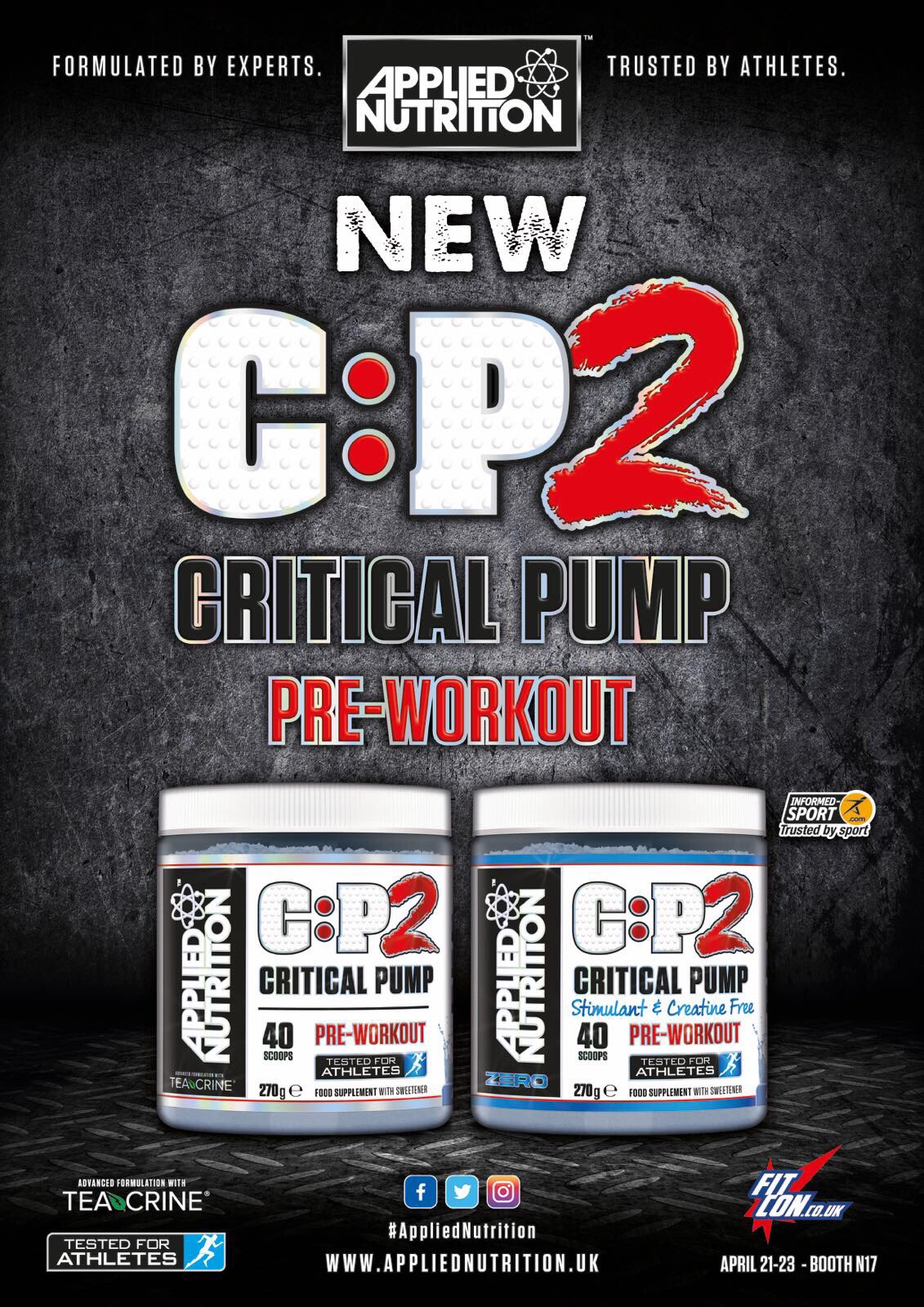 Kluczowe korzyści
Certyfikat Halal

Zwiększenie sprawności fizycznej podczas krótkotrwałych, intensywnych i powtarzających się ćwiczeń

Batch Testowany Sport dla Sportowców

Niesamowite smaki i wymieszanie
Smaki do wyboru :
Blue Raspberry
Nutritional Information
per (100 g)
per Serving (13.5 g)
*%RI
Energy
14.65 Kcal
1.97 Kcal
62.27 kJ
8.40 kJ
Fats
0 g
0 g
of which Saturates
0 g
0 g
Carbohydrate
3.66 g
0.49 g
of which Sugars
0 g
0 g
Fibre
0 g
0 g
Protein As Is
0 g
0 g
Protein (Dry Basis)
0 g
0 g
Sodium
1.03 g
0.13 g
Salt Equivalent
2.57 g
0.34 g
Citrulline Malate 2:1
29.63 g
4 g
Creatine Monohydrate
22.22 g
3 g
Beta-Alanine
14.81 g
2 g
Arginine AKG (Alpha Ketoglutarate)
14.81 g
2 g
GPLC (Glycine Propionyl L-Carnitine)
4.81 g
650 mg
Caffeine
1.48 g
200 mg
TeaCrine®
370 mg
50 mg
Vitamins
Ascorbic Acid (Vitamin C)
1.852 mg
250 mg
313
Niacinamide (Vitamin B3)
593 mg
80 mg
500
Cyanocobalamin (Vitamin B12)
185.2 mcg
25 mcg
1000
* Reference Intake
INGREDIENTS
Citrulline Malate, Creatine Monohydrate, Beta Alanine, Arginine AKG (Alpha Ketoglutarate), GPLC (Glycine Propionyl L-Carnitine), Sodium Bicarbonate, Raspberry Flavour, Citric Acid, Vitamin C (Ascorbic Acid), Caffeine, Niacinamide (Vitamin B3), TeaCrine®, Sucralose (Sweetener), Cyanocobalamin (Vitamin B12), Brilliant Blue FCF.
CAUTION
Check with a qualified health professional before using this product if you are under the age of 18, pregnant or nursing a baby or if you have any known or suspected medical condition(s) and or are taking any prescription or OTC medication(s). High Caffeine content (80mg/100ml when mixed correctly). Not to be used as a substitute for a varied diet and healthy lifestyle. Store this product in a cool dry place, away from children. Do not exceed suggested use. For allergens see ingredients in Bold.
GMP
This product was manufactured in a GMP facility under strict quality control to assure consistent high quality that meets the requirements of the marketing authorisation (MA) or product specification.
Labrada Nutrition Muscle Mass Gainer 2722 g - ACTIVE ZONE

229,00 zł 179,00 zł

BSN Syntha-6 EDGE 1870g - ACTIVE ZONE

189,00 zł 149,00 zł

USN Core Series 100% Premium Whey Precision Complete 2280g - ACTIVE ZONE

189,00 zł 159,00 zł

Universal Nutrition Ultra Whey Pro 2270 g - ACTIVE ZONE

199,00 zł 169,00 zł

Applied Nutrition BCAA Amino-Hydrate 450g - ACTIVE ZONE

129,00 zł 99,00 zł

Applied Nutrition ABE Ultimate PRE-Workout 315g - ACTIVE ZONE

129,00 zł 109,00 zł

Applied Nutrition Critical Mass 2890 g - ACTIVE ZONE

149,00 zł 129,00 zł

Applied Nutrition Critical Pack (30 saszetek) - ACTIVE ZONE

149,00 zł 125,00 zł

Applied Nutrition Protein Mousse 750 g - ACTIVE ZONE

99,00 zł 69,00 zł

Applied Nutrition C:P2 Critical Pump 270g - ACTIVE ZONE

149,00 zł 99,00 zł

Applied Nutrition Diet Whey 2kg - ACTIVE ZONE

219,00 zł 199,00 zł

Applied Nutrition RECOVERY 1kg - ACTIVE ZONE

139,00 zł 99,00 zł

Applied Nutrition Critical Whey 2.27 kg - ACTIVE ZONE

219,00 zł 169,00 zł

Applied Nutrition Creatine Monohydrate Micronized 500g - ACTIVE ZONE

89,00 zł 69,00 zł